About HEDUP
HEDUP offers educational support through local churches for anyone who needs help pursuing their dreams—students who did not complete high school, special needs students, those struggling to stay in school, people who want to improve English language skills and others. We offer help with: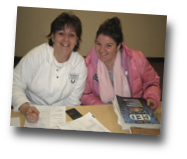 HiSET Prep

A high school equivalency diploma (HiSET) offers hope for a brighter future ... an opportunity to go on to higher education and prepare for a better paying job. We help guide students in their studies and assist them with subject matter that they have difficulty learning on their own.
ESL Classes

We offer English as a Second Language classes for those who seek to improve their English language skills. (Not offered at all locations.)


Other Areas of Study

We tailor help to our students specific needs. We offer help with school-work, special tests for licensure, literacy skills, and other areas of study to offer hope for a brighter future.
With a little help … You can do it!
HEDUP Info

HEDUP is an all-volunteer Christian outreach that serves people of all needs and backgrounds, regardless of age, ethnicity, economic circumstance, or religion.
HEDUP offers help in a variety of educational areas from basic reading to more advanced subject matter based on your individual needs.
HEDUP is an activity for the whole family! We encourage parents to participate along with their children.